1st Annual Currie Cup - Bantam AAA Sabres
---
---
The Currie Cup is an event where the CNHA will honour the sacrifices of all Canadian service personal and as an official CNHA Remembrance to commemorate the 100th Anniversary of the end of World War I.
So named after LGen. Arthur Currie - Commanding General of the Canadian Corps in Europe at the end of WW 1 in 1918. See this Link for more information about LGen. Currie: https://en.wikipedia.org/wiki/Arthur_Currie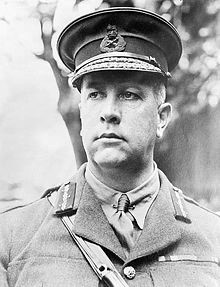 The Bantam AAA Sabres game against NWCAA Flames will take place at Max Bell 1 - Ken Bracko Arena on Wednesday November 14, 2018. Ceremony at 7:00pm and puck drop at 7:30pm.
Come on out and cheer on our Bantam AAA Sabres and celebrate a Canadian Hero.
COST: Food Bank Donation or a $2.00 Donation to the Calgary Poppy Fund
The Curry Cup Trophy - Donated by Valour Canada